Stop drinking alcohol with these tried and tested tips – and say goodbye to hangovers for good! Anna Bailey shares the 9 things that helped her stop drinking alcohol!
After many months of excess maybe you've decided enough is enough – and now you're wondering how to stop drinking alcohol? If so, you're not the only one.
I gave up drinking in November 2019. Not because I was physically dependent on alcohol, or the booze was outwardly ruining my life. But, because I was bored of being hungover, wasting my weekends, worrying about what I'd said, done, posted, or text after one too many. Having read countless books, most of which are listed below, my thinking about sobriety has totally shifted. Giving up isn't just for people who've hit rock bottom and need AA. It's for anyone who's decided drinking alcohol is taking away more from their life than it's giving.
And, I'm not the only one. There are a growing number of 'sober curious' people out there who've been swayed by the benefits of not drinking alcohol and decided they want to live a healthier lifestyle, without the beer belly, dehydrated skin, short temper, and 'hang-xiety'.
If you're determined to stop drinking alcohol for 30 days or more, but you're worried about how you'll manage to stick to it, then you might find some of these ideas useful. Here are all the things I did to stay on track when I decided to give up alcohol:
How to stop drinking alcohol: 9 Things That Helped Me Stop Drinking Alcohol
I read 'quit lit'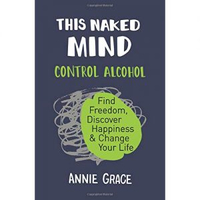 This Naked Mind by Annie Grace

Annie Grace is the queen of sobriety – so many people credit this book with helping them finally quit. It's packed with psychological insights into why we drink, and why we don't need it – as well as explainers on the physical effects.
Start Reading
If you're searching for the things that can help you to stop drinking alcohol, look no further! Start reading This Naked Mind for free right now!
I signed up for an online course on how to stop drinking alcohol
The Naked Mind author Annie Grace charges £35/$47 to sign up for her Alcohol Experiment online course. I haven't tried it, but it's had great reviews. You can also download the FREE app, which includes lots of really useful resources – including daily video lessons. You can start at any time. When you sign up, you're automatically added to a chat room as well. So you can talk to other people who've just started the course. Daily lessons include, for example – Why We Think We Like to Drink, Why Will Power Doesn't Work For Long, and How Alcohol Affects Your Senses.
I signed up for sobriety podcasts
Podcasts are just brilliant for inspirational sobriety stories, motivational explainers, and Q&As. There are dozens of high-quality productions to choose from. These are some of my favourites:
How I quit alcohol: My favourite podcast is presented by musician and sober coach Danni Carr. In each series, she chats to ex-binge drinkers, alcoholics in recovery, drug and alcohol counsellors. It's always so positive, and entertaining – and full of kind and empathetic advice.
Find out more
This Naked Mind: Although this is presented by Annie Grace, you hardly ever hear her speak. She just lets her guests talk, which I love. Always a really good and in-depth interview with someone who has turned their life around.
Find out more
Read about all the things that helped Anna stop drinking alcohol here.